There are over 220,000 TDU graduates. TDU has brought essence of science and technology to the world and has made multiple effects on actual social activities such as R&D, dissemination of frontier technology and corporation management. TDU graduates have been making great achievements in not only in Japan but also in the whole world.
"I do not fear mistakes; instead, I always embrace new challenges."
Hisashi Koinuma (Video Game Producer, Company Executive)
Photograph Provision/Cooperation: Koei Tecmo Holdings Co., Ltd.
Based on his passionate desire to engage in creative work at a video game company, Hisashi Koinuma studied information science at TDU and learned to program through independent study. Koinuma has produced numerous titles including collaborations such as the Samurai Warriors Series and Attack on Titan, as well as the title Nioh. "For me, nothing was more fun than trying new things with new hardware," says Koinuma. Currently, he is advancing globalization as a producer and a company representative. "Game development is done by a large team and requires a trusting relationship," explains Koinuma. He also expresses his aspirations for creativity and contribution by developing the best possible contents which are even more interesting and enjoyable. His attitude is supported by numerous people.
"I will always work to create new things," declares Hisashi Koinuma.
"A technology is not an adventure. With strong confidence I can make it."
Toshio Kashio, Inventor, Co-founder of CASIO COMPUTER CO., LTD.
Honorary Doctorate of TDU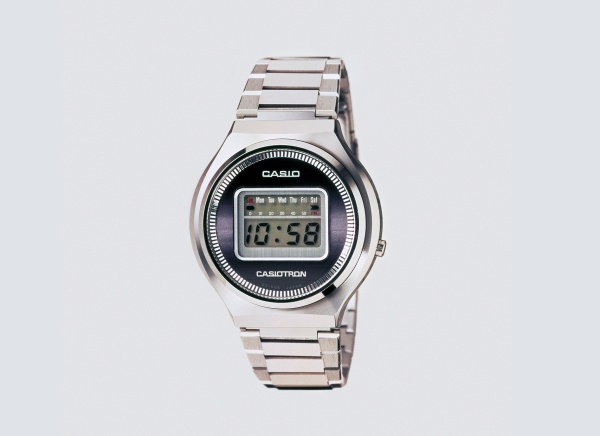 Photo courtesy of CASIO COMPUTER CO., LTD.
Kashio was touched by Edison's biography and aimed to be an inventor.
He recalled that his studies at Denki School (now TDU) were of great benefit in his subsequent R&D projects.
Always an original thinker interested in pursuing the nature of things, Kashio spent seven years commercializing a compact all-electric calculator, and then did the same for watches and electronic musical instruments based on what he'd learned from the calculator's technologies. He developed the first world's automatic calendar wristwatch, CASIOTRON, in 1974. The G-SHOCK, a shock-resistant wristwatch evolved from CASIOTRON in 1983.
This evolution established a new concept of wristwatches – and made the brand CASIO a worldwide name. "I invent things we need but that nobody in the world has yet noticed we need." Kashio famously said, "Don't let your dream be just a dream; make it real. Reach for the sky."
Companies at which TDU graduates serve as CEOs, presidents, or board chairpersons
16 TDU graduates represent listed companies (ranked 41st in Japanese universities) and 64 alumni and alumnae work for listed companies as board members(ranked 52nd in Japanese universities)
| Company Name | Stated Capital (in M¥) | Number of Employees |
| --- | --- | --- |
| Anritsu Corporation | 19,100 | 3,778 |
| Doshisha Corporation | 4,900 | 1,631 |
| Fuji Latex Co., Ltd. | 643 | 297 |
| Fuji Soft Incorporated | 26,200 | 14,775 |
| Kameda Seika Co., Ltd. | 1,900 | 3,197 |
| Kandenko Co., Ltd. | 10,200 | 9,651 |
| Koei Tecmo Holdings Co., Ltd. | 15,000 | 1,835 |
| Komaihaltec Inc. | 6,600 | 560 |
| Mystar Engineering Corp. | 981 | 1,875 |
| Shinden Hightex Corporation | 1,400 | 132 |
| Stanley Electric Co., Ltd. | 30,500 | 17,121 |
| Systems Design Co., Ltd. | 333 | 490 |
| System Information Co., Ltd. | 502 | 627 |
| Taikisha Ltd. | 6,400 | 4,829 |
| Techno Horizon Co., Ltd. | 2,500 | 896 |
| Topcon Corporation | 16,600 | 4,923 |
Related content