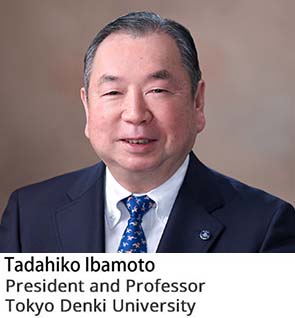 Completed doctoral course in Department of Architecture, The University of Tokyo. D.Eng.
Representative of Japan, the Executive Committee of the Implementing Agreement on Energy Conservation through Energy Storage, International Energy Agency (June 2006-March 2017).82nd President of The Society of Heating, Air-Conditioning and Sanitary Engineering of Japan (May 2008-May 2010).
I was appointed to President of Tokyo Denki University on October 1, 2019.
Since its foundation in 1907, TDU has been fostering highly advanced researchers and engineers for more than 110 years.
Our mission is "Development of human resources who contribute to society by technology." With the founding spirit "Respect for Practical Study," our fundamental educational and research ideal is "In the technology Breathes its Creator."
Continuing its history and tradition, TDU will aim for further development as a science and engineering university that adapts to rapid development in the changing social environment.